This page has links and reviews of available templates and tools relating to the CMMC and NIST SP 800-171
**Updated February 10, 2021**
Please help others in the community by leaving a comment with resource links!
Warning – Assessment / Compliance platforms
I want to warn everyone to be extremely cautious about any vendor that pushes you to subscribe for their "assessment" or "compliance" platform.
These are generally websites (clouds) that are designed to guide you through your CMMC or 800-171 compliance project. They give you a place to upload your policies and evidence (screenshots, reports, etc) and cross-link to specific CMMC and 800-171 requirements. Some will provide you sample policies and "best practice" answers to make it even easier.
The problem with compliance platforms: Can they safely store your data?
As a Defense Industrial Base contractor, your network security information is highly valuable to adversaries. That means that any company helping you with security needs to be trusted and secure before you send them confidential data.
It is also possible that your vulnerabilities or the information you input about your cloud vendors could be considered Controlled Unclassified Information (CUI) if your company provides mission-essential services on behalf of the United States. For example, the system security plans for FedRAMP cloud vendors are often marked CUI. If you quote or copy them into your compliance platform, you are putting CUI into that platform.
So as you are considering using a compliance website, if you will put CUI into it, you should look at whether their system (not their hosting provider) is FedRAMP approved and that they have reporting capabilities in place per DFARS 252.204-7012. Short story: there aren't many that meet this requirement… (comment if you know otherwise!).
In particular, I've seen advertisements from "CMMC compliance portals" that aren't even based in the U.S. Yikes!
For this reason, I urge you to strongly consider keeping your System Security Plan (SSP), Plan of Action & Milestones (POA&M), network architecture data, inventories, vulnerability reports, and other evidence in-house. If you work with a cybersecurity consultant, ask them how they plan to store your data securely.
---
Free CUI Training from Department of Defense
This PowerPoint released by the DoD has additional training about CUI and the difference between it and other data types like Classified and FOUO.
This "Mandatory CUI Training" from the DoD is also available for free (and might be considered mandatory).
---
US-CERT – Threat Intelligence
https://www.cisa.gov/cybersecurity
Both CMMC and NIST SP 800-171 require that you pay attention to sources of cyber threat intelligence. For most of us, the easiest way to achieve this is to subscribe to the U.S. Cybersecurity & Infrastructure Security Agency (CISA) bulletins.
Check the bottom of the CISA page for a subscribe link. The information they provide is eye-opening.
---
DoD – Controlled Unclassified Information Resources
This website was JUST published in October 2020 by DoD's OUSD Information Security (INFOSEC) office. It gives official guidance for identifying Controlled Unclassified Information, how to handle it (policies), and several resources for handling it (cover sheets, marking guidelines).
Your user agreements and awareness program should include information from this site.
---
CMMC Process Maturity Index Template
This excel file is provided free from Kieri Solutions (a C3PAO in Maryland). They recommend all their clients index their documentation as a readiness step before assessment. The template has instructions and examples for how to create an index of your documentation to be referenced during a CMMC gap analysis or assessment. Indexing is a valuable exercise because it helps you ensure that you have documentation that supports every single practice (for Level 2 and 3) and it will reduce the cost of your engagement because the assessment team will not need to search through your documents for each question.
---
SANS Institute – Security Policies
https://www.sans.org/information-security-policy/
SANS Institute provides a set of best practices security policies in both PDF and DOC format. No registration required. These policies aren't designed for military or government -specific applications, so you will want to add some language to address sensitive data types.
---
DoD Environmental Research Programs templates for NIST SP 800-171
https://www.serdp-estcp.org/Tools-and-Training/Installation-Energy-and-Water/Cybersecurity/Templates-and-Checklists
Evaluation: This site has about twenty downloadable documents ranging from Incident Response forms to a full IT policy document. The ESTCP IT Policies and Procedures template looks to have a wide range of standard policies included. They are all in one long document, which means you will need to do some cross-referencing to show which chapter relates to which control. Update: ESTCP has re-pushed this in DOC (Microsoft Word) format to make it easier to edit (cheers!) No sign-up required. This looks like the best free template set on the Internet. The documents were updated in 2018 and 2019, which makes them quite recent.
---
BYU.edu CMMC Compliance Calculator and Summary
https://docs.google.com/spreadsheets/d/1QYioA4Nk6hyHM21SFrCWitQNTiORXaDeIvVtZwVGQ4U/edit?usp=sharing
Evaluation: This is an elegant and free excel spreadsheet which has transcribed all the CMMC practices for level 1-5. It will save you from re-creating the wheel if you use Excel to track your progress. It calculates automatically to show progress toward 100%.
Don't be mislead by the column that says "SSP (notes)", this is not where you enter your System Security Plan (SSP) response. It is intended to link back to specific sections of your (much more detailed) SSP.
---
Educause.edu NIST SP 800-171 Compliance Template
https://library.educause.edu/resources/2016/9/nist-sp-800-171-compliance-template
Evaluation: This is a free excel spreadsheet with a row for each NIST SP 800-171 control. The control text is included. It cross-references each 800-171 control to other compliance standards (NIST 800-53, DFARS 7012), ISO 27002:2013). This spreadsheet will save you from re-creating the wheel if you use Excel to track your progress. No sign-up required to download.
---
NIST SP 800-171 System Security Plan Template
https://csrc.nist.gov/CSRC/media/Publications/sp/800-171/rev-2/final/documents/CUI-SSP-Template-final.docx
This is a template for the DFARS 7012 System Security Plan provided by NIST. System Security Plans are currently required for DoD contractors that hold Controlled Unclassified Information (CUI).
*Updated*: Training video on how to create a system security plan using the NIST template
Evaluation: You can't go wrong by starting with this free template for your 800-171 self-assessment. It is also a good starting point for CMMC (though you will need to update the requirement IDs). The word document lists each control and gives you room to provide descriptions, evidence, and compliance status. You could use this document to overview your entire self certification process and print it out for an auditor.
---
NIST SP 800-171 Plan of Action & Milestones (POAM) Template
https://csrc.nist.gov/CSRC/media/Publications/sp/800-171/rev-2/final/documents/CUI-Plan-of-Action-Template-final.docx
This is a template for the DFARS 7012 Plan of Action & Milestones (POA&M) which is currently required for DoD contractors that hold Controlled Unclassified Information (CUI).
Evaluation: You can't go wrong by starting with this free template for your 800-171 self-assessment or to support your CMMC compliance efforts. You could use this document to overview your entire self certification process and print it out for an auditor.
---
CMMC Official Assessment Guides
https://www.acq.osd.mil/cmmc/draft.html
This is the official CMMC website hosted by the DoD. The documents on this page are as official as it gets.
Use the Assessment Guides to understand the full complexity of each practice.
---
NIST SP 800-171A Assessor's Guide
https://nvlpubs.nist.gov/nistpubs/SpecialPublications/NIST.SP.800-171a.pdf
Regen Edens (CMMC-AB director) has recommended using this assessor guide to understand the audit expectations while preparing for CMMC (particularly level 3+).
---
DoD Contractor minimum security requirements
https://www.acquisition.gov/content/52204-21-basic-safeguarding-covered-contractor-information-systems
Any DoD contractor with "Federal Contract Information" (any non-public information provided by the Government, which basically applies to all companies with a DoD contract) is expected to have these cybersecurity controls in place. This is a current requirement which will translate to CMMC Level 1 in the future.
---
CMMC glossary of terms and major players
https://www.cmmcaudit.org/cmmc-glossary-terms-and-definitions-whos-who-in-cmmc/
Evaluation: This glossary provided by Kieri Solutions LLC is very helpful for orienting yourself to the CMMC ecosystem and various documents, policies, and terms. It lists the major players and their roles. Similar to this page, it links to authoritative sources for more information on each topic.
---
FedRAMP approved vendors list
https://marketplace.fedramp.gov/#!/products?sort=productName
DoD contractors with CUI (this translates to CMMC Level 3-4-5) are currently required to use only Cloud Providers that are at least FedRAMP Moderate. The FedRAMP marketplace lists companies that are either in-progress or approved, and their FedRAMP level.
Quote from DFARS 7012 regulation:
(D) If the Contractor intends to use an external cloud service provider to store,
process, or transmit any covered defense information in performance of this contract, the Contractor
shall require and ensure that the cloud service provider meets security requirements equivalent to
those established by the Government for the Federal Risk and Authorization Management Program
(FedRAMP) Moderate baseline (https://www.fedramp.gov/resources/documents/) and that the cloud
service provider complies with requirements in paragraphs (c) through (g) of this clause for cyber
incident reporting, malicious software, media preservation and protection, access to additional
information and equipment necessary for forensic analysis, and cyber incident damage assessment.
---
DoD Cyber incident reporting procedures
https://www.acq.osd.mil/dpap/dars/pgi/pgi_htm/current/PGI204_73.htm
DoD contractors with CUI (this translates to CMMC Level 3-4-5) are currently required to report cyber-incidents to the DoD.
This is the Procedures Guidelines Instructions document which describes the back-and-forth process of reporting, and potential investigation, after a cyber incident.
---
Incident Response template
https://www.kieri.com/free-incident-response-templates-scenarios/
Provided by Kieri Solutions, this Word template guides your staff through essential time-stamps, triage, evidence collection, and notifications when you detect a cyber incident. It can be easily customized to fit your needs. The article also includes a description of how to prepare for an incident and 34 scenarios that you can use for internal drills.
---
CyberAssist's guidance for specific CMMC practices
https://ndisac.org/dibscc/cyberassist/cybersecurity-maturity-model-certification/cmmc-specific-practices/
Evaluation: This website is a great source of clarification for individual CMMC practices. They do some major copy-and-paste from the official documents for the bulk of their clarifications – so if you have the original CMMC Appendix, you will see the same text in both places. The site's value is that they provide links to other documents and guidance from authorities such as SANS institute, NIST, and major vendors.
---
Secure Technical Implementation Guidance (STIGs)
https://nvd.nist.gov/ncp/repository
One of the CMMC requirements is CM.2.064 "Establish and enforce security configuration settings for information technology products employed in organizational information systems." While this can be interpreted in MANY ways, one way to meet this is to apply STIGs on your environment.
NIST provides security configuration settings at the above link. This is a pretty complex topic and a lot of work. I recommend talking to a security consultant with DoD experience if you haven't encountered STIGs before.
---
Manual Vulnerability Search
https://nvd.nist.gov/vuln/search
One of the most basic cybersecurity requirements (included in CMMC level 1, "FAR Critical 17", and NIST 800-171) requires that you identify and correct vulnerabilities.
CMMC SI.1.210: "Identify, report, and correct information and information system flaws in a timely manner."
This database, provided by NIST, has a list of all US Government published software and hardware vulnerabilities. Each vulnerability (called a CVE) is described in detail with links for patches or manual corrective action (if exists). This database is moderately difficult to use since the results can be overwhelming.
To get started, I recommend searching for a specific software on your computers or mobile phones. For example, try searching "Zoom Client" which is a popular meeting app with major vulnerabilities that were fixed in mid-2020.
---
CMMC Big Rocks diagram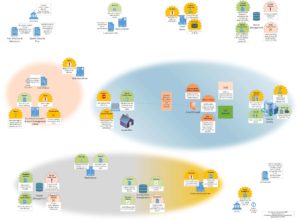 Provided by Kieri Solutions LLC, this diagram is meant for initial (early) training on CMMC level 3 requirements, including current DFARS 252.204-7012 requirements for contractors with CUI. It describes and groups major processes and technical requirements which take a lot of effort to implement and mature: "the big rocks". Use this to identify major tasks while building a more detailed gap assessment and POA&M.
---
CMMC Center of Awesomeness
http://model.cmmc-kill-chain.com/CMMC%20Kill%20Chain%20%282020.1%29.pdf
I recommend the CMMC Kill Chain diagram to understand the major tasks involved with starting a CMMC compliance project. Nice job COA!
---
Did you find this information useful? Please sign up for our newsletter for timely updates about CMMC and DFARS 252.204-7012 . You can unsubscribe at any time.
Next articles
Index of CMMC Audit Topics and Articles
CMMC Scope – are you ready for an assessment?
CMMC Compliance FAQs – Organizations seeking certification
Review of CMMC Registered Practitioner Training