DISCLAIMER: This is an attempt to help regular DoD contractors by describing very simple ways to perform the process. Get assistance from your contract officer or SPRS / PIEE helpdesk if you have questions!
For official instructions, see the following sources:
Defense Federal Acquisition Regulation Supplement: Assessing Contractor Implementation of Cybersecurity Requirements (DFARS Case 2019-D041)
NIST SP 800-171 Assessment Methodology, Version 1.2.1 (see Annex B)
SPRS 800-171 Quick Entry Guide
DoD Acquisition & Sustainment website with additional guidance for contract officers
PIEE Vendor "Getting started" step by step registration
PIEE Helpdesk: +1 866-618-5988. The menu options that worked for us were 2 – Vendor user, 1 -Account Activations, 3 – Account activation technical support.
You need to keep working with the PIEE Helpdesk until you see the SPRS icon on your screen when you log on. After that, for SPRS-specific questions, the helpdesk number is 207-438-1690.
Q: If my organization doesn't have CUI on our systems, should we submit something?
What is CUI? It is a category of very sensitive, but unclassified, information called "Controlled Unclassified Information".
If you don't know what CUI is, reference this article: CMMC Glossary, Terms, and Definitions. Who's who in CMMC
I've had a few contractors ask me what to do if they don't have Controlled Unclassified Information (CUI).
If a self-assessment is required in order to win a contract, and you don't have a self-assessment in the system because you don't have CUI, does that mean you will lose the contract? High risk!
Arguments against submitting a self-assessment if you don't handle CUI
Robert Metzger (Attorney | Co-author MITRE "Deliver Uncompromised") gives this advice:
Another argument is that according to the NIST SP 800-171 DoD Self Assessment Methodology, you cannot perform a self assessment without having a System Security Plan that describes your system. Based on that, contractors that don't have a SSP should not even submit a failing score.
NIST SP 800-171 DoD Self Assessment Methodology
More information about System Security Plans can be found here.
Arguments for submitting a self-assessment if you don't handle CUI
Katie Arrington (Chief Information Security Officer to the Assistant Secretary of Defense for Acquisit:ion) seems to say that all contractors with the DFARS 252.204-7012 rule need to record a self assessment in SPRS to be considered for contract.
She gives an example of two small companies bidding on a contract. Both submitted their self assessments, but one has a score of 80 and one has a perfect score. Just having the self-assessment makes you "technically acceptable". The company with the lower score would have a lower bid [overhead] because their security costs less. On a Lowest Price Technically Acceptable (LPTA) contract, both companies are technically acceptable and the one with a score of 80 wins due to LPTA.
Please reference this Coffee & Conversation with Katie Arrington from November 17 2020. Timestamps 3:30 and 13:00 and 23:19.
February 2021 update – No distinction based on CUI
Over the last four months, we have watched the actual deployment and interpretation of the new DFARS rules. Department of Defense Procurement and Contract Officers are applying the clauses to all non-COTS and all non-micro purchases.
The requirement for NIST SP 800-171 DoD Self Assessment IS being enforced no matter if you have CUI or not.
This memorandum document released by the Navy describes how the requirement will be added to all contracts except for COTS and micro purchases.
Even if you don't have CUI, you should probably submit a self-assessment.
My concern is that a contract officer might accidentally disqualify a company for not having an assessment, without realizing that the missing assessment is because the company doesn't plan to handle CUI. There is also the possibility that the contract officer might feel that the company does need to handle CUI in order to perform the contract. Communication is key!
It sounds like submitting a self assessment is the lowest risk option, even if NIST SP 800-171 does not apply to you.
webptsmh@navy.mil has no guidance
One of my clients tried to reach out to webptsmh@navy.mil and got a reply that "we cannot answer policy questions from this office…. suggestion to email your DCMA representative or their general mailbox. In this case, you might also wish to check with the prime contractor to get direction."
Q: How do I perform a self-assessment and get a score to submit?
Check out our page on DFARS 252.204-7012 which has links to the resources you need to build your security program and do a self-assessment. Note: If you do not have a cybersecurity expert on staff (or a consultant), you do not have the pre-requisite knowledge to perform this. Get help.
Optional: Send me an email if you would like recommendations for consulting solutions.
Steps to Submit directly to SPRS using an account on PIEE
If you submit directly to your own account in SPRS, you will be able to avoid delays on the DoD side as they try to manually move thousands of assessments into SPRS.
Navigate your web browser to Procurement Integrated Enterprise Environment (PIEE)
If you already have an account for PIEE, you can skip the below registration steps. Log on and add the SPRS Cyber Vendor User role. ComplyUP has provided steps for existing accounts here.
If you don't have an account yet, click on Register button (top right)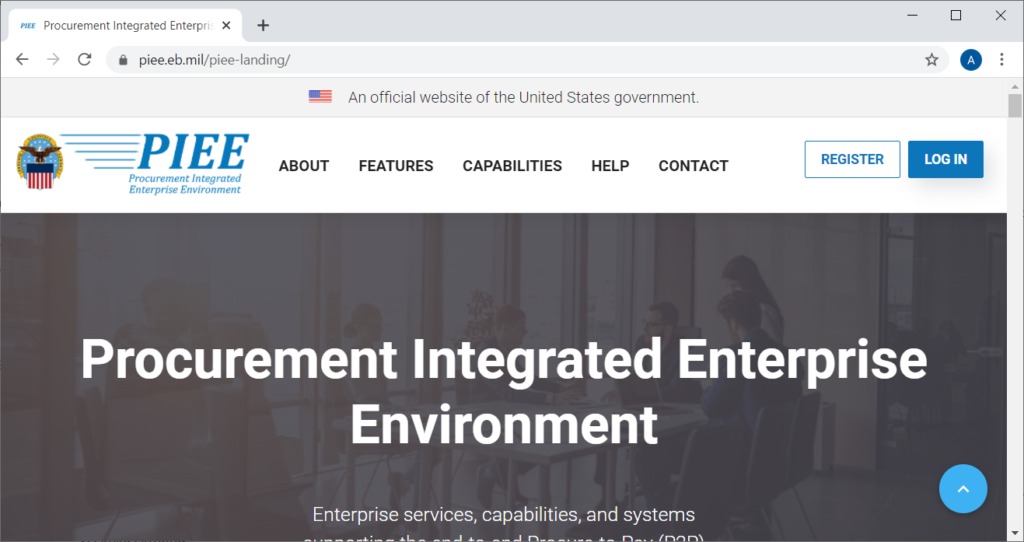 Accept (or don't) the Privacy Act Statement and Terms and Conditions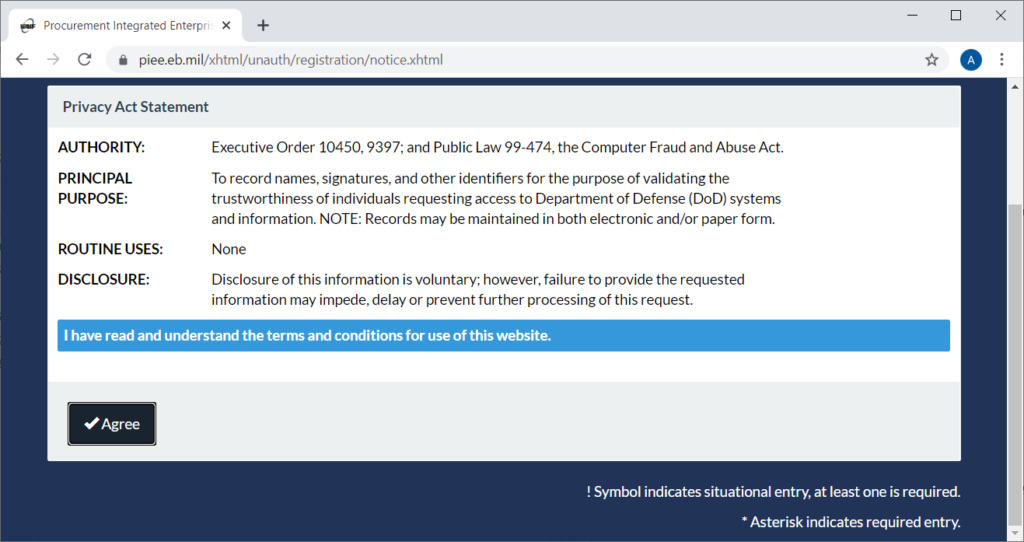 Pick Vendor (the other options seem to be for PIEE administrators like contract officers)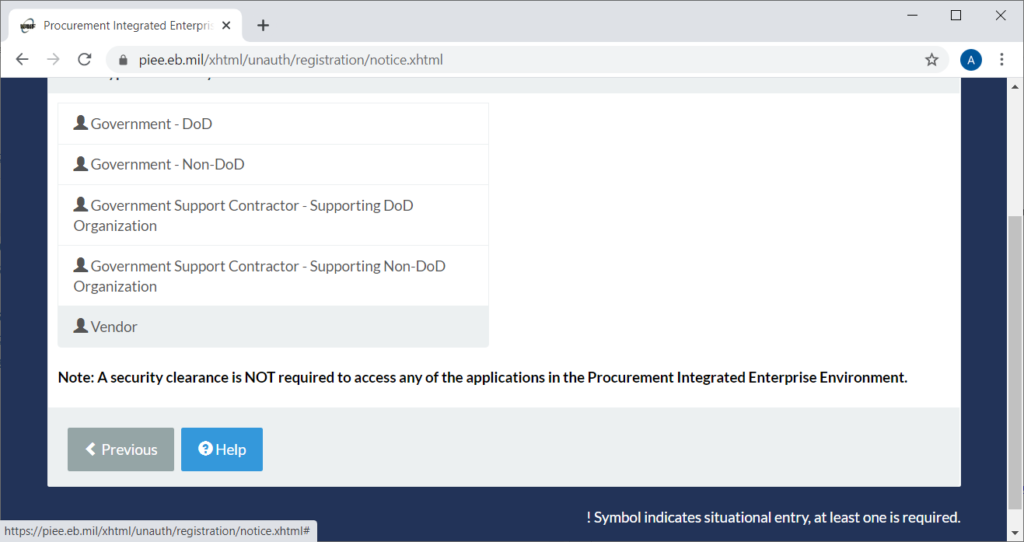 If you have a Common Access Card or certificate, feel free to choose those. For most people, just enter the username and password you prefer.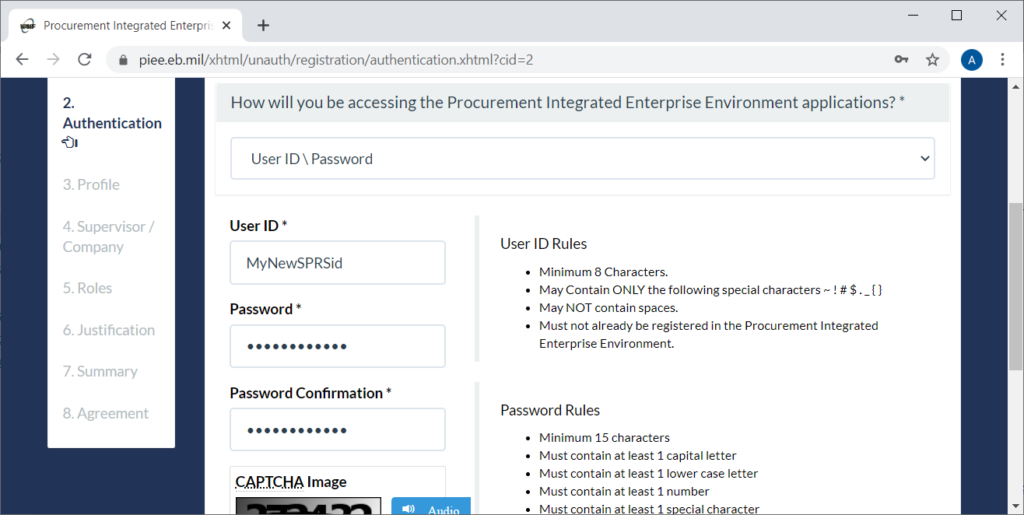 Enter security questions…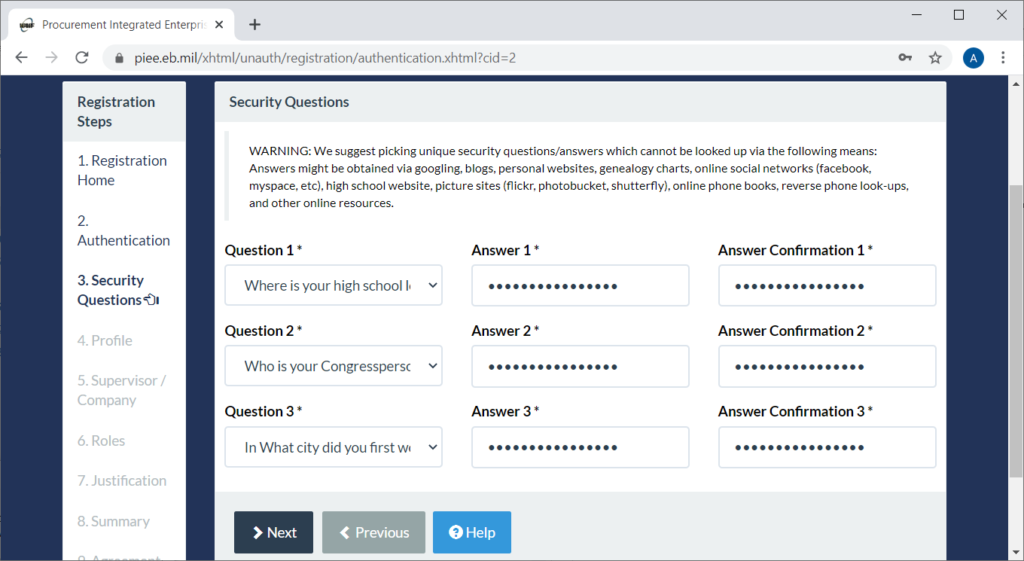 Enter your name and contact information. This will be reviewed as part of your submission, so make sure it matches reality. I expect that it helps if your Organization matches the CAGE code you enter later.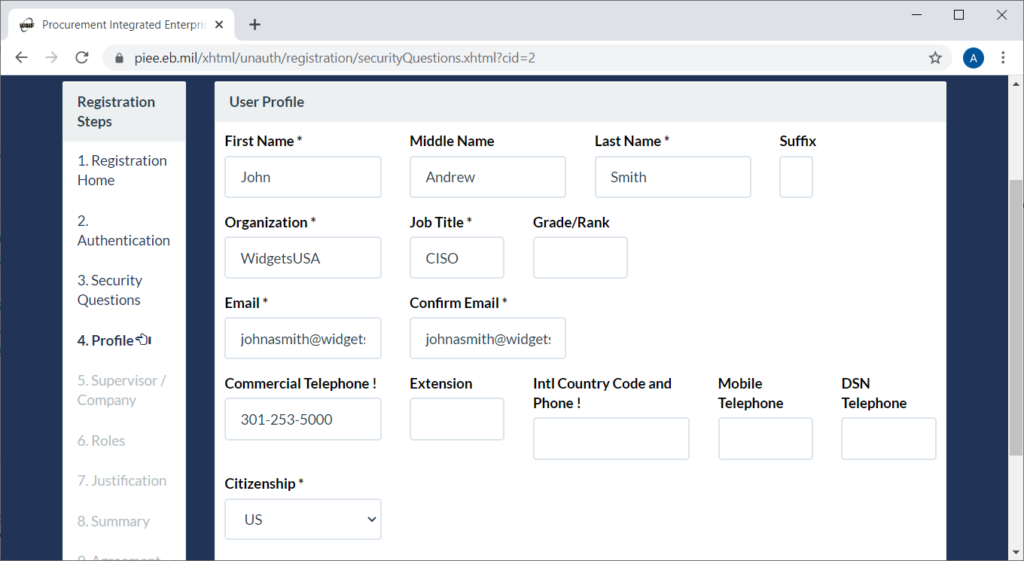 Enter quality information for the Company fields. Supervisor is not required, though it might be helpful when your submission is reviewed.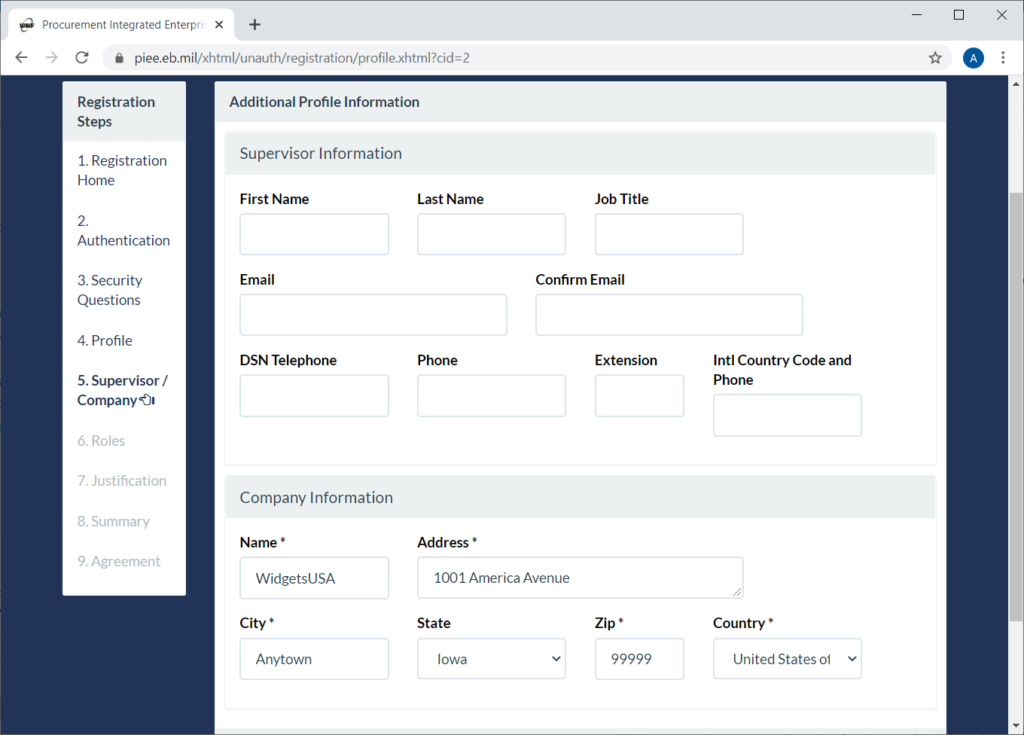 This next bit is the tricky part.
ADD A ROLE
---
A) First registration in PIEE??
If you are the first person in your company to register a PIEE account, you need to set up a Contract Administrator first.
In Step 1, click the down-arrow and select PIEE. Then select the Contract Administrator role. At the bottom, click Group Lookup and type your CAGE code in, then click the Location button to look it up and accept the results. If the system does not find your CAGE code, call the PIEE helpdesk.
You should see your CAGE code displayed next to Contract Administrator role. Click Next.
Skip the Cyber vendor steps below and go straight to JUSTIFICATION.
Note, once you get your account activated, you will need to return to your account settings and add the SPRS Cyber Vendor role using the steps below.
---
B) Cyber Vendor Role – if your company already has an account.
In Step 1, click the down-arrow and select SPRS – Supplier Performance Risk System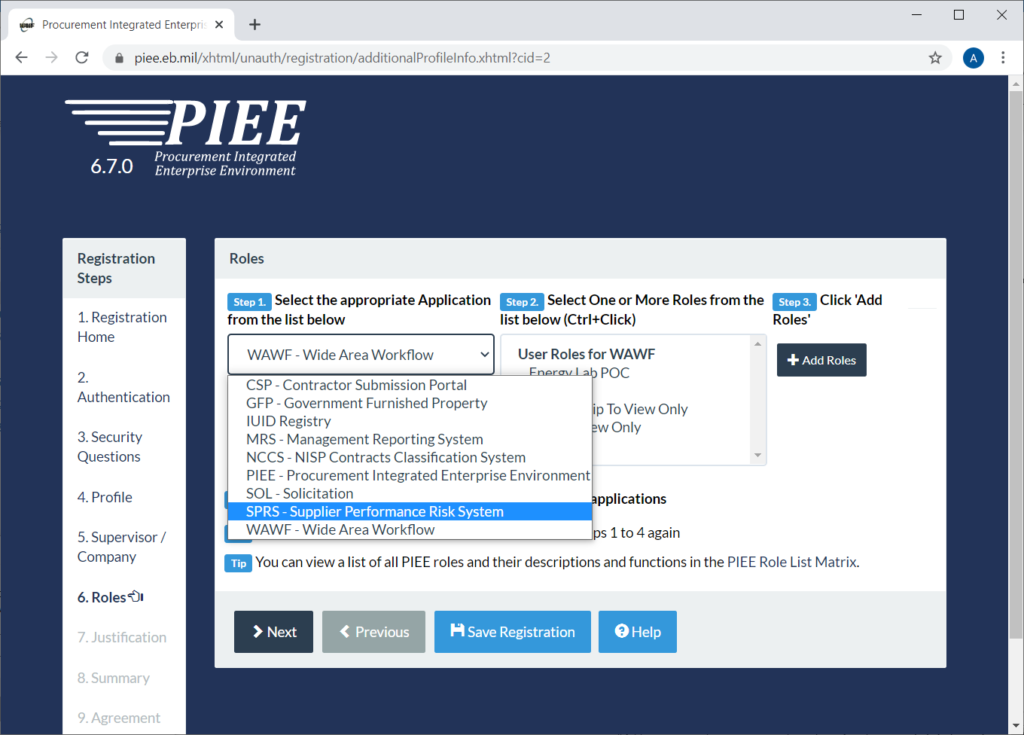 In step 2, pick SPRS Cyber Vendor User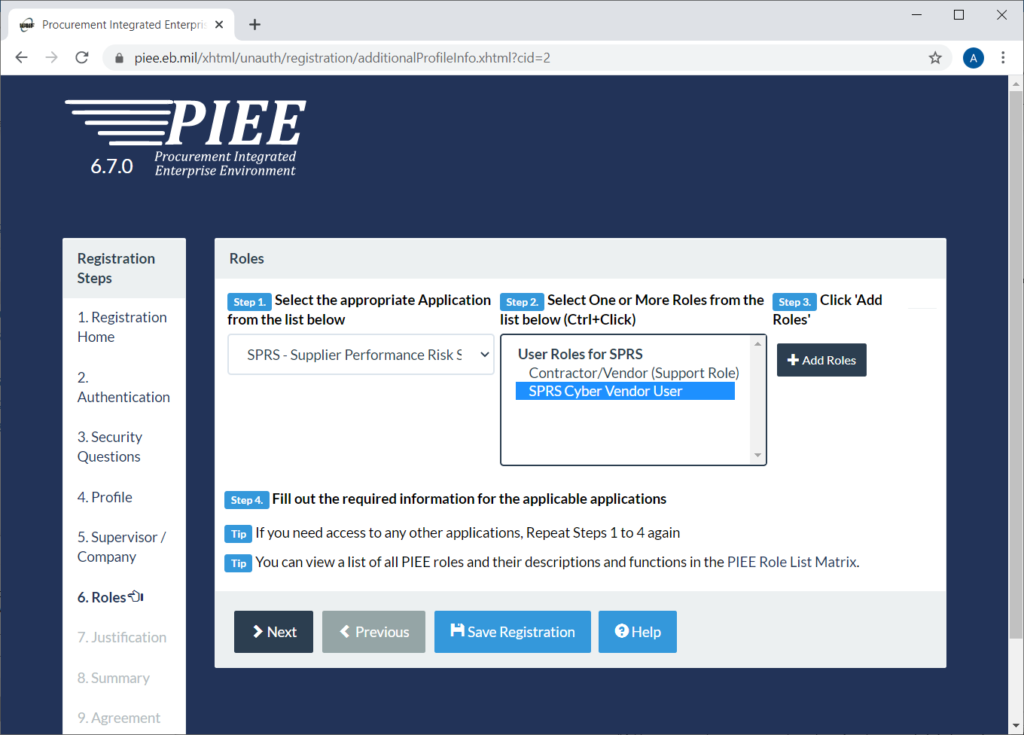 In step 3, click +Add Roles . A line will appear at the bottom with a Location Code* field. Enter the CAGE code for your organization (this should match the CAGE code associated with the contract that you are submitting for)
Update: If your CAGE code is not recognized, review the steps in this PIEE step-by-step instruction page. Most companies need to perform Step 3 (and later steps) if the message "There are no Contractor Administrators in the system for the Location Code" displays.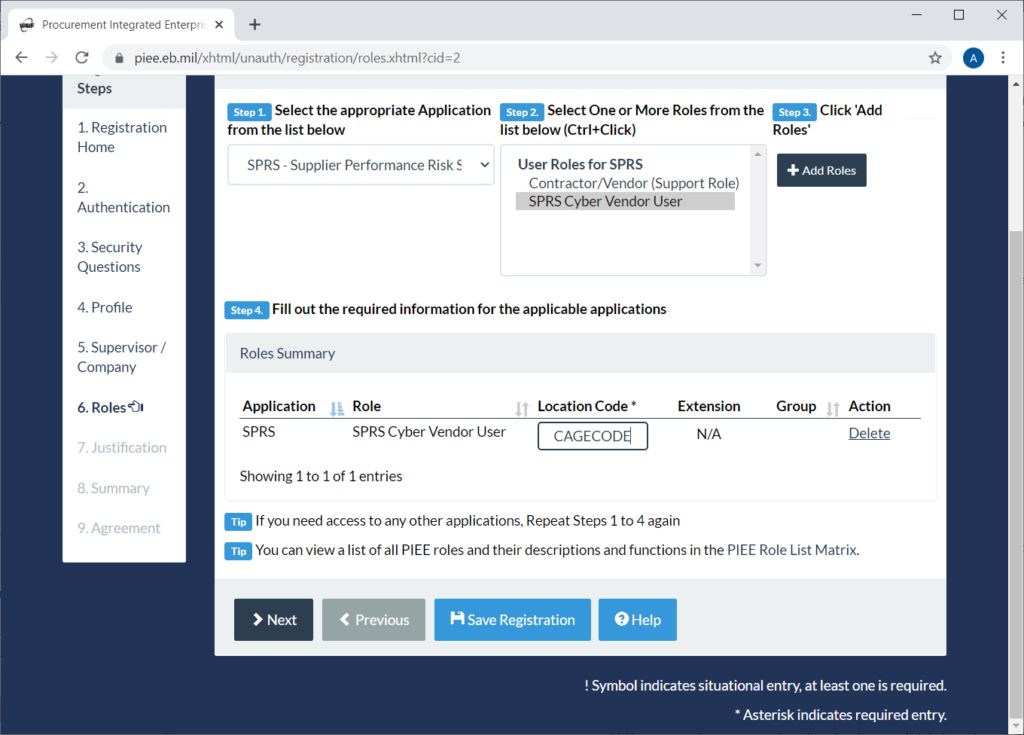 If you have multiple CAGE Codes related to DoD contracts, repeat Step 3 +Add Roles to add additional lines and enter the CAGE codes.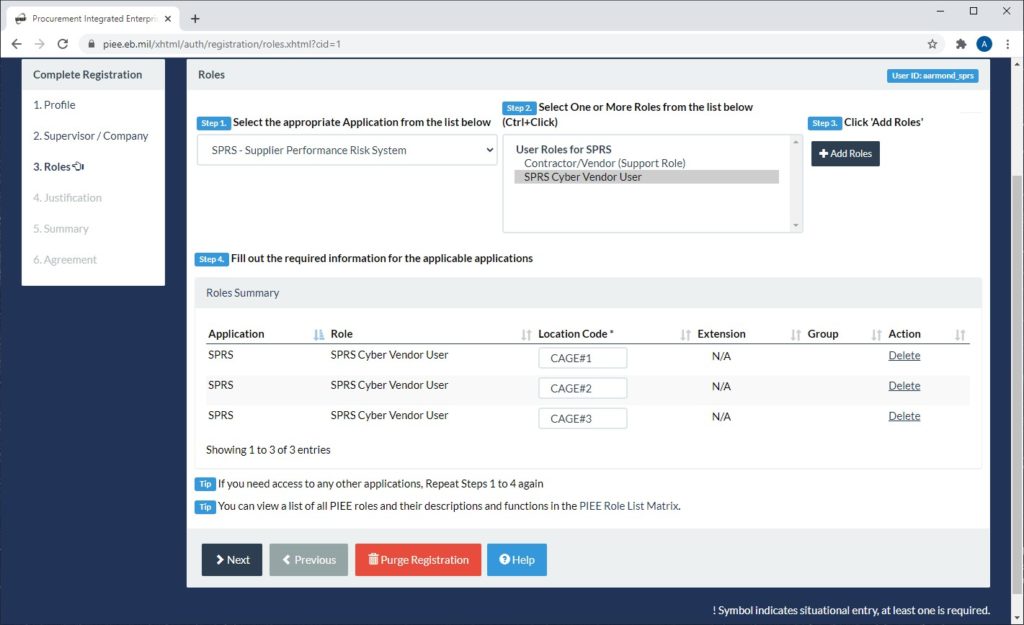 ---
JUSTIFICATION
Enter justification for an account. Attachments would be used for justification and/or identification purposes. Do not attach your self assessment here.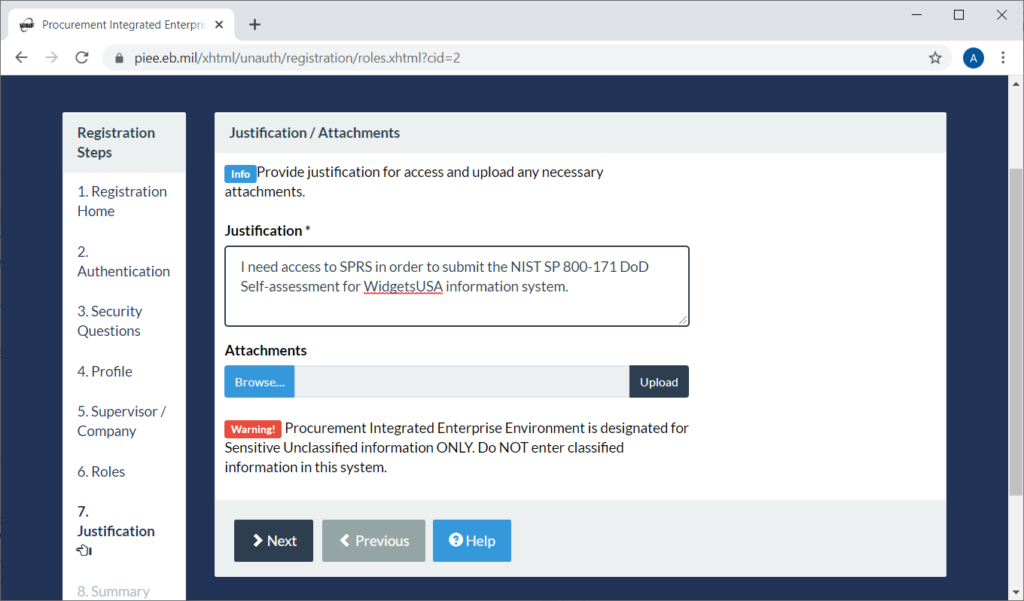 Registration Summary displays.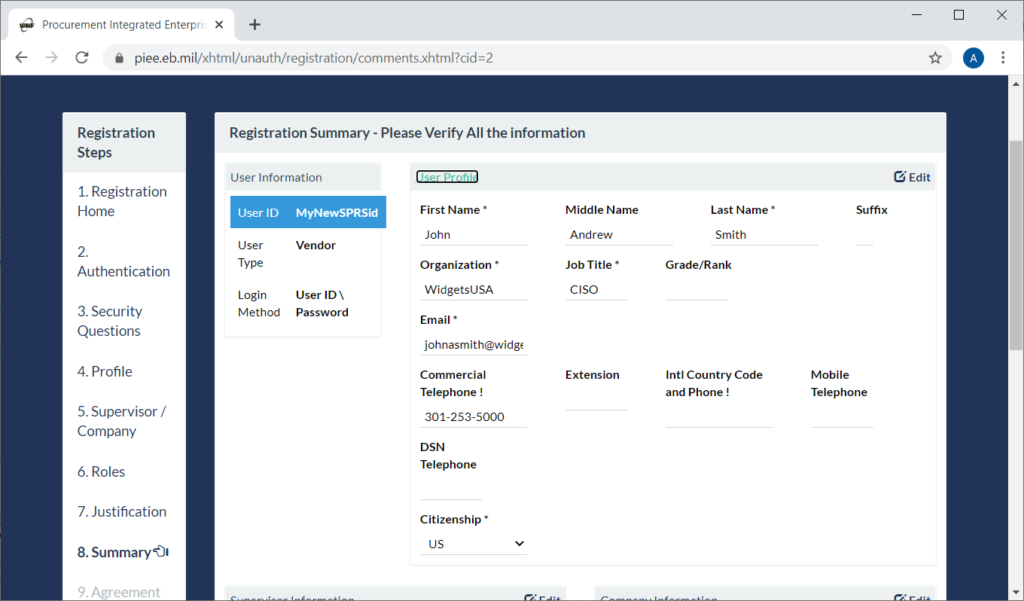 I dropped out at this point because I wasn't putting in an actual registration. Hopefully you can make it through the next step (Agreement) on your own.
Your Contractor Administrator has to approve for SPRS to display
UPDATED July 6, 2021
The next step is your Contractor Administrator for the CAGE Code will need to approve your role.
If you are a larger business, you can look this person up by going to the PIEE Find Government / Contractor Account Administrator page. You ONLY need to fill out the location code with your CAGE. Leave the other filters empty.
If you are the only person with a PIEE account at your business, try waiting an hour or two (business hours only). The helpdesk should approve your account, assuming your justification makes sense. If it takes longer, then you should call the PIEE helpdesk at +1 866-618-5988. The menu options that worked for us were 2 – Vendor user, 1 -Account Activations, 3 – Account activation technical support.
A quick conversation with the PIEE helpdesk and identification of the account and CAGE code got us approved. The SPRS icon will now display when we log on to PIEE.
Now that I have access to SPRS, how do I submit my self-assessment?
This NIST SP 800-171 Quick Entry Guide from SPRS has instructions to submit the assessment.
I can't create an SPRS account. Now what?
In some cases, you won't be able to create an SPRS account. It seems to be highly dependent upon your organization's CAGE code and whether that CAGE code has been registered in use on a DoD contract before.
If your CAGE code is not recognized, review the steps in this PIEE step-by-step instruction page. Most companies need to perform Step 3 (and later steps) if the message "There are no Contractor Administrators in the system for the Location Code" displays.
The alternative method is to submit your self-assessment to the webptsmh@navy.mil email address. Your submission should be sent via an encrypted email. How do you do this?
Vincent Scott from Defense CyberSecurity Group sent the following:
Wondering how to send an encrypted email to submit your DFAR 7019/20 Basic Self Assessment? If you do not have their certificate it cannot be done. I did email them and request a certificate. They sent me one. Recommend that as an approach.
Additional information from Vincent Scott:
New note on email submission of Basic Self Assessment. I found that the signature I received back was not for the group box, but for the individual who replied on behalf of the group box WEBPTSMH.fct@navy.mil . This would not allow me to send an encrypted email because of the signature address mismatch. I asked the Navy individual manning the inbox for help. She did some research and replied that it was NOT POSSIBLE to have a certificate for a group email box. Ergo it is NOT POSSIBLE to send an encrypted email to the group box, only an individual. I now recommend emailing the inbox, if you are email submitting, asking for the digital signature, and replying encrypted to the individual on the signature rather than the email prescribed in the rule.
Amira's note: Once you get an email from webptsmh@navy.mil with their public key certificate, you may need to install and trust the DoD root certificates on your computer in order to send back the encrypted email. This DoD website has resources for root certificates.
More tips for submitting via email
From Wayne Boline (Raytheon Technologies): "Don't try send the information via one of the secure portals where the recipient has to go to a https site and retrieve the message. That won't be accepted."
From Timothy Fawcett:
"I submitted my results for the #nist800171 assessment, according to "Annex B," by email yesterday (webptsmh@navy.mil). I got a response back from the SPRS people requesting I change the format. If you have not been able to submit your results through SPRS and are emailing your results please see the excerpt from the email from SPRS:"
Hello – your NIST Assessment results are not in the complete correct format. Please use the example below for submission.

To post your Basic Assessment results, please reply with the following:
1. Date of Assessment
2. Assessment score (< or = 110)
3. Scope of Assessment (choose one: Enterprise, Enclave, Contract) definitions from system:
Contracts – Contract specific SSP review
Enterprise – Entire company's network under the CAGEs listed
Enclave – Standalone under Enterprise CAGE as business unit (test enclave, hosted resources, etc.)
4. Plan of Action completion date (the specific calendar date at which you predict to attain a score of 110)
5. Included CAGEs (CAGEs you are reporting that are covered by the SSP)
Your submission must be in the format above and complete for each CAGE.
Do we need to submit our System Security Plan or POA&M?
At this point, there seems to be broad agreement that no documents need to be submitted with your self-assessment. The DoD only wants the exact information that is specified in the DFARS 252.204-7019 and 7020 rules (see picture at top of page).
How are multiple CAGE codes or multiple contracts handled?
Vince Scott from Defense CyberSecurity Group sent the following:
Q: If multiple CAGE codes or multiple contracts use the same information system, how do we explain this in the submission?
Based on

"(ii) If multiple system security plans are addressed in the email described at paragraph (d)(1)(i) of this section, the Offeror shall use the following format for the report: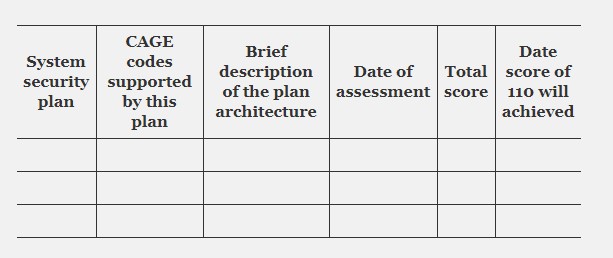 Since this allows for "cage code supported" I would use this format for multiple plans or multiple cage codes, from an email submission perspective. I am planning to enter ours into SPRS this week, so I will let you know how that goes.
Update: I am hearing from multiple sources that the above table (which is from the DFARS Interim Rule) isn't an acceptable format for submitting your score to webptsmh@navy.mil
This format below may be better. Please comment if you know more.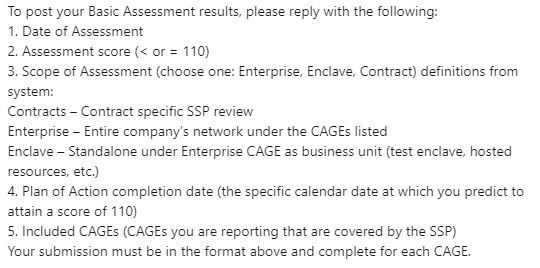 Can subcontractors get access to SPRS, or only primes? Are primes supposed to submit on behalf of subcontractors?
It appears that subcontractors can get access to SPRS and can submit their own self-assessments.
What if my organization's score is below 110?
You are in good company. Unless you have full time cybersecurity professionals on-staff and dedicated to compliance, your score is probably between -1 and -100. Go ahead and submit the true score.
Then start fixing your environment, update your system security plan, perform another assessment, and upload your improved score to SPRS. You can keep adding new self-assessments over time until you reach 110.
Should clouds used to store, process, or transmit CUI be included in the self-assessment?
Because NIST SP 800-171 only applies to internal contractor networks, and the DoD self-assessment asks for NIST SP 800-171 rather than the overall DFARS 252.204-7012 rule, some people may interpret their cloud as being out of scope.
This is incorrect. According to the DoD Acquisition Cyber FAQs, not only is the DoD expecting your cloud to be authorized at FedRAMP moderate or equivalent, but you are still responsible for some secure configurations. Examples: Managing user accounts and roles. Enforcing strong passwords and lockout settings. Verifying your personnel are screened. For more information, see our blog about CMMC, CUI, and Cloud Vendors – do you need FedRAMP?
Q127: How will Software as a Service solutions be scored with the NIST SP 800-171 DoD Assessment? For example: Integration with Office 365, which holds a FedRAMP moderate certificate, may create an issue as the vendor will not share specific details with clients.
A127: For cloud-based solutions (e.g., SaaS, Office 365), if authorized at FedRAMP moderate or equivalent, the solutions are assumed to meet NIST SP 800-171 requirements. However, typically certain configuration settings remain the responsibility of the subscriber/client, and when they are related to specific NIST SP 800-171 requirements, they are subject to assessment and scoring.
More answers to be added over time. Please comment or email us if you have any tips or guidance!
Remaining questions about submitting a self-assessment
If we manage to send an encrypted email correctly, how long will it take for it to be posted into SPRS?
Please subscribe to our newsletter for useful information about CMMC and DFARS compliance and becoming a professional in this space. Please send me a connection on LinkedIn for community discussions about the CMMC and 800-171.
V. Amira Armond (CISSP, CISA, PMP, MBA) is a computer systems architect, cyber-security consultant, and owner of Kieri Solutions LLC. Kieri Solutions specializes in CMMC preparation and DFARS 252.204-7012 compliance, and designing secure and resilient enterprise systems for private sector and the DoD. Amira is the chief editor for cmmcaudit.org, a public resource for news and informational articles about the Cybersecurity Maturity Model Certification.
Next articles:
Policy templates and tools for CMMC and 800-171
CMMC, CUI, and Cloud Vendors – do you need FedRAMP?