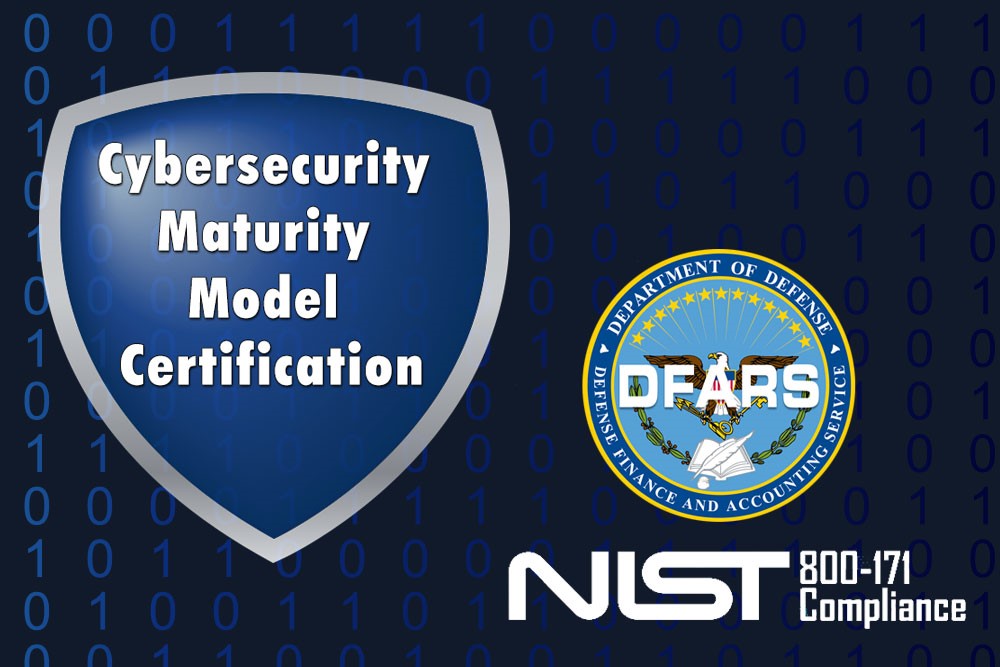 Recent Articles
Resources to get started with CMMC
Check the menu above for dozens of articles about CMMC, how to prepare your company, and how to become an assessor yourself.
Below are the top 10 links / resources for CMMC and 800-171, ranging from official to informal.
Official DoD homepage for CMMC
The Department of Defense owns the CMMC program. The Department of Defense is the organization that requires cybersecurity and (in the future) CMMC certification for their contractors. You can find an FAQ, and more importantly, the official documents published by the DoD which identify their expectations for cybersecurity.
Official homepage of the CMMC Accreditation Body
The CMMC Accreditation Body, recently rebranded to "Cyber-AB", is a private-sector organization which has the responsibility to manage and accredit CMMC assessment companies. The Cyber-AB is mandated to follow the ISO 17011 standard to be an accreditation body. If you want to be a CMMC professional, this organization offers certification and marketplace listings.
Defense Industrial Base Cybersecurity Assessment Center (DIBCAC)
This page on the Defense Contract Management Agency's (DCMA) website has several great resources for defense contractors in the final stages of preparation for 800-171 or CMMC assessment. In particular, the self-assessment database and pre-assessment packages provide insight into the assessment process.
DFARS Cybersecurity FAQs (Official DoD guidance about 800-171 and DFARS)
This website is an official DoD website, even though it doesn't look like it. The page has an FAQ document which has some of the best technical clarifications for what the DoD expects their contractors to do for cybersecurity. It is written for existing DFARS 252.204-7012 and NIST SP 800-171 compliance requirements, but these overlap CMMC requirements almost perfectly.
NIST SP 800-171 DoD Assessment Methodology
This document gives instructions for performing a NIST SP 800-171 self-assessment and scoring the self assessment so that the results can be entered into SPRS. CMMC uses this document to identify which practices cannot be failed in order to pass a CMMC assessment (the 5-point practices). The document also gives advice about Not Applicable practices.
Security policy templates, training, and tools
This is a page on cmmcaudit.org (this website), with links to other good cybersecurity resources that will help you get ready.
Glossary of CMMC terms and key players
This page gives simple descriptions of many terms and resources related to CMMC. Very helpful to read through when you are starting out.
This is a Discord server which focuses on CMMC, CUI, 800-171 compliance, and other topics of interest to defense contracting cybersecurity. Most of the top level people in CMMC contribute in this forum. Best source of peer-to-peer information available.
This is the website of the C3PAO Stakeholder Forum, an industry group of CMMC assessment companies. The Positions page has articles with recommendations for how to assess CMMC, as well as high-level recommendations for the program as a whole.
This page is relevant for all companies who are currently contractors for the DoD. It explains existing requirements for cybersecurity, which happen to look a lot like the new requirements for CMMC.
This page has all articles on the site. Remember that CMMC has changed over time, and articles written before 2022 may be outdated.
DoD to contractors: Your cybersecurity is not good enough
The Cybersecurity Maturity Model Certification (CMMC) is an initiative lead by the Office of the Assistant Secretary of Defense for Acquisition. This is an office in the Department of Defense (DoD) which helps set policy for DoD contract requirements.
DoD contractors who handle Controlled Unclassified Information (CUI) are already required to self-certify compliance with the NIST SP 800-171 set of cybersecurity best practices. However, as pointed out by Ms. Katie Arrington during the CMMC Listening Tour in 2019, self-certification is not working. DoD contractors have been successfully targeted by cyber adversaries because they haven't fully secured their networks.
To force DoD contractors to implement cybersecurity, the CMMC will require many DoD contractors to get an audit and certification from a third party auditor if they have CUI on their information systems.
We talk about 800-171 too!
Although this website is named "CMMC Audit", almost all our articles are also relevant to NIST SP 800-171 and DFARS 252.204-7012 compliance. Check our NIST 800-171 menu above for specific information about these current requirements. Articles that discuss CMMC Level 2 or Controlled Unclassified Information will be helpful for your 800-171 journey today.
What you need to know about CMMC
CMMC enforcement timelines
The current timelines have shifted right significantly since 2020. As of November 2022, we still have not had any real CMMC assessments of defense contractors. Here is the current timeline (guesstimate)
Mid 2022 – 20 C3PAOs have been "Authorized", but cannot yet perform CMMC assessments.
Mid 2022 – Mid 2023: A few C3PAOs are allowed to do "joint" assessments of 800-171 alongside the Defense Industrial Base Cybersecurity Assessment Center (DIBCAC). So far the rate has been 1 completed per month. These are not CMMC assessments.
Mid 2023 or Mid 2024 – New DFARS rule introducing CMMC is published.
After the rule: Authorized C3PAOs are able to perform CMMC assessments on their own schedule. Possibly up to 100 assessments per month will occur, with perhaps 600 performed in the first year after the DFAR rule is released ( <1% of total )
Mid 2024? The Cyber-AB is accredited as an ISO 17011 Accreditation Body, and begins accrediting C3PAOs as inspection bodies.
Gradual and accelerating expansion over time.
CMMC levels and requirements
The DoD recognizes that their contracts have different risk profiles, so each RFP will list a CMMC level requirement from 1-3. Having proof of compliance at that level would be a requirement to even submit a bid.
The lower level (1) applies to DoD contractors who don't deal with Controlled Unclassified Information (CUI). I expect most resellers will fit into this category. Other than purchase orders and possibly human resources information, they don't hold government information on their corporate networks. The security requirements for these levels are much less stringent.
In the middle level (2), DoD contractors handle CUI. This is information like schematics for DoD equipment. Data which lets adversaries reverse-engineer or learn about military capabilities. For example, a shipyard might have maintenance plans for submarine equipment on a CUI network. This requires a level of protection very similar to the current NIST SP 800-171 recommendations.
At the highest level, (3), the CUI being protected is high stakes. These networks will be targeted by cyber adversaries. Examples of this information would be weapon test results or detailed manufacturing schematics. Securing your network up to level 3 is likely to be very expensive.
For more details about the CMMC as an overall program, see CMMC Basics – the Full Details
---
Does CMMC apply to your business?
This infographic describes different types of sensitive but unclassified Federal data and their related cybersecurity requirements.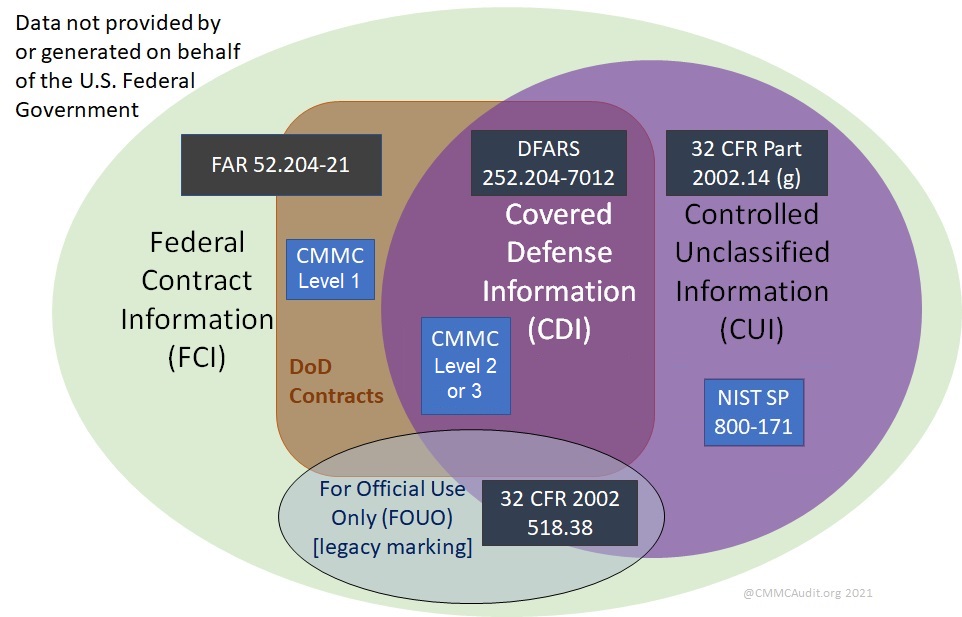 ---
Are you just looking for a CMMC audit provider?
The sponsor of CMMC Audit (Kieri Solutions) is an Authorized CMMC Third Party Assessment Organization. Kieri Solutions is known for supporting defense contractors by publishing free training and advocating to the CMMC-AB and DoD on behalf of contractors. If you need CMMC assessment services, check them out!
---
Are you just looking for help preparing for the CMMC?
We encourage you to reach out to the sponsor of CMMCAudit.org , Kieri Solutions, if you like what you see on this website. At the least, they are happy to chat for 30 minutes and give you free advice.
---
---
CMMCaudit.org is not a representative of the Department of Defense, the CMMC Accreditation Body, or the CMMC Assessors and Instructors Certification Organization. This website is meant to be community resource for CMMC audit (or assessment!) preparation.